Lara Home Phone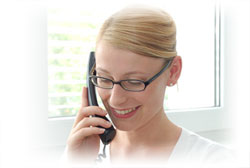 We are now offering a full phone solution for our clients. Purchase separately to add a second line to a home or business or bundle with fast high speed internet offering. You can even cancel your existing phone service if you bundle with our dry loop option. Start saving now.
Service highlights:
Unlimited Local and Long Distance in Canada
(Except Yukon, Northwest Territories, & Nunavut)
FREE Call Waiting
FREE Canadian Local Number
FREE Call Display
FREE Voice-mail
FREE 3-Way Calling
Call forwarding
Excellent International Rates (View Rates)
Works with any phone
Does not require a computer to work
---
Home Phone Options
Lara VOIP Phone

> Order Now
Features:
Including the Home Phone device. You will need an existing high speed connection in order to use this service. This is a great option for adding a second line to your home or business.
Hardware:
Phone Adapter
Internet Hardware:
Not required
Phone Cost:
$12.95 monthly
Total Cost:
$12.95 monthly
> Order Now
Phone Equipment:
$60.00
Keep existing phone number (optional):
$50.00
All prices are subject to HST.
One Year Contract Period. $60 break term fee would apply.